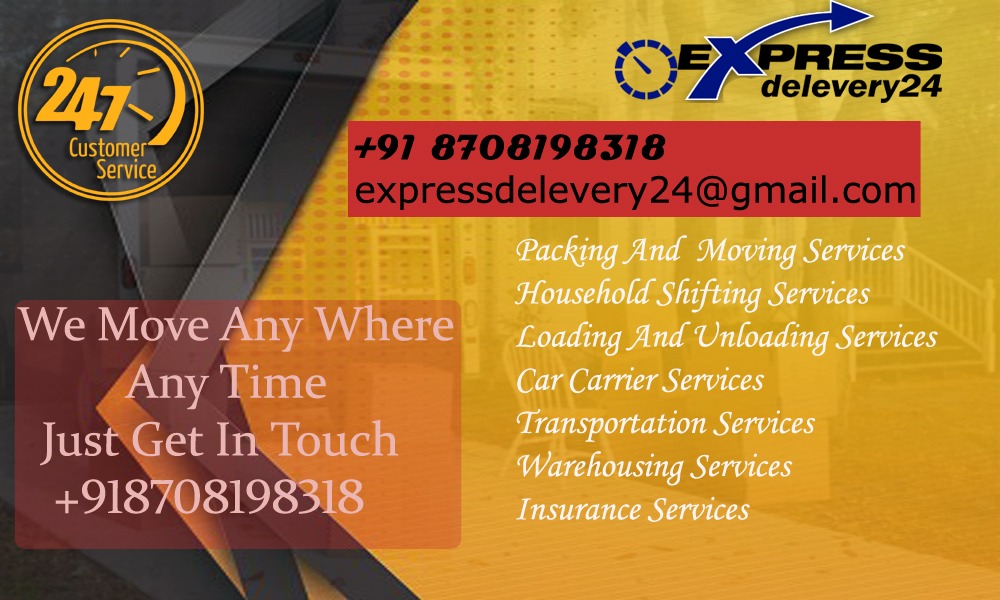 Excess Baggage or Luggage Parcel Booking Services Chennai Tamil Nadu.
Excess Baggage or Luggage Parcel Door to Door Services Chennai to anywhere in India.
If you are relocating to another city and wondering "How to book excess baggage?" Then your search ends here. Simply, book your excess baggage with Expressdelevery24 Chennai using its Easy2Move service at reasonable price and cost. 'Easy2Move' is an unparalleled door-to-door delivery solution offered by Express Delevery 24 Packers and Movers Chennai Tamilnadu that shifts your baggage anywhere in India and saves above 90% on airlines excess baggage charges. You can ship small business shipments, samples, promotional items, gifts etc. While relocating for your career, choose Expressdelevery24 Chennai for the hassle-free movement of your baggage anywhere in India. This service is available in all over India pincodes of India.
KEY FEATURES OF THE SERVICE
Free Good Quality Carton Box, Poly Pack, Tape etc. for Packing of things
Door Pick-Up and Door Delivery all over India.
Simplified flat rate Per Box or Per Kgs.
Sunday and holiday Pickup & Delivery without any extra Charges Cost.
Packing and Documentation Support
Digital Payment (Net Banking, Credit & Debit Card, Digital Wallets, etc.)
Free Insurance (limited liability)
Online Booking Request/ Service Enquiry
Excess Baggage or Luggage Bag Shipping- If you are looking to move few bags and a carton box we can help you pick up and door deliver them at a very affordable moving cost.
2. Bike Parcel – We also offer two wheeler moving to all India with door to door moving
3. Carton Boxes Moving- Students, working professionals who do not posses full household items and need a moving services for few household items, we assure our best services across India at a very reasonable moving charges.
We cover all major cities in india and frequently shift to Parcel from Chennai Tamilnadu – Gurgaon, Mumbai, Pune, Hyderabad, Kolkata, Bhubaneswar, Jaipur, Delhi, Bangalore, Goa , Noida and over 1500 Pincode Locations across country.
We are using 3PL services to cover more regions for safe and secured delivery and on time delivery at a very affordable moving cost. We Express Delevery 24 for nationwide and International delivery. We use redirect your shipment with these companies for safe and fast delivery. We Offer Packing and Moving and door pick up your cargo for moving, you will also be supported with docket details for tracking. If you have any more query please do not hesitate to ask our expert.
Transportation- Basic Door Pick up charges in Chennai –Rs.800.00 Per Carton Box packing cost- Rs.100.00 Manpower cost depends on the number of manpower required for moving.
Example- if you were to move 05 Carton Box from Chennai to Jaipur, the cost would be Rs.7000.00 for door to door delivery- Rs.800 for pick up + Rs.500 for Packing + Rs.3500 for Transportation from Chennai to Mumbai+Rs.800 for door delivery at Mumbai+Rs.500 for one manpower for Loading at Chennai+Rs.500 for Unloading at Mumbai+Rs.5000 (Value) Insurance Included & GST Included.
However it is best advised to reach our number and find your moving cost. Carton Size- 20/ 20/17 Inch maximum weight 20 Kgs whichever is higher. We have know for supporting and highly searched for South India Packers and Movers Gurgaon, North India Packers and Movers, West India Packers and Movers and east India Packers and Movers as best parcel movers company. So just call us to Pick a Parcel services at very affordable cost. We are excellent Global Parcel Movers in Bangalore and that why we are City and Global Packers and Movers Company with highest reputation in business.